The theme for Catholic School Week 2017 is Catholic Schools: Learning with Pope Francis to Care for Our Common Home
Dates: January 29 – February 4, 2017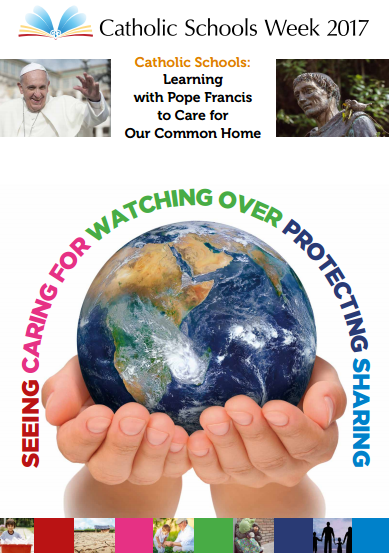 The theme for Catholic Schools Week 2017: Catholic Schools: Learning with Pope Francis to Care for Our Common Home.
Catholic Schools Week 2017 invites all involved in Catholic education to examine the challenge to an 'ecological conversion' as described in Pope Francis' Encyclical Laudato Si' and what we understand by stewardship and how we live out the call to take care of our environment. We are called to self-reflect and remind all members of the school community of the founding values; in other words, education is never simply about transmitting simple facts. Catholic Schools Week offers schools an opportunity to celebrate their identity as Catholic Schools.
---
Resources have been produced to use with R.E. classes during Catholic Schools Week:
Post-Primary School Resources for CSW 2017
CSW2017 Flier                     CSW 2017 Post-Primary Flier as Gaeilge
CSW 2017 Poster                 CSW 2017 Poster as Gaeilge
Junior Cycle Post-Primary Resources for CSW 2017                     Senior Cycle Post-Primary Resources for CSW 2017
CSW17 Reflections for Boards of Management
For further ideas, click the following link to visit the Catholic Schools Partnership Website where you can view all resources for Catholic Schools Week 2017
---
The school community is encouraged to liaise with the parish with a view to contributing to the celebration of the Eucharist at one of the Masses on Sunday, January 29. It is encouraged that Catholic Schools Week becomes part of the annual life of the parish. It will always begin on the last Sunday in January.
Click here to download a PowerPoint entitled 'Make the Mass Yours' which describes a variety of ways that students can take part. Please note that the PowerPoint provides suggestions, it may need to be modified to suit your school community context and is intended for use in a classroom setting.